Sootaway is a combustion catalyst for solid fuel. The active ingredient is a manganese complex. The catalyst works on all types of solid fuels. 
Benefits to using Sootaway
Increases rate of heat release

Lower ignition temperature

Reduces emission of CO, SO2 and NOx

Reduces unburned particles like soot

Ables total combustion at lower temperatures

Reduces sediments 

Reduces consumption of fuel by 15-20% consequently reducing emission of CO2.

Reduces costs of energy production and maintenance of equipment.
Contact us for more information and documentation.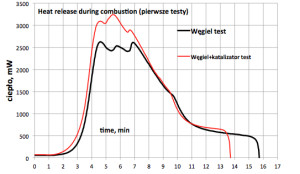 Węgiel – coal
Ciepło – heat
Without Sootaway                                    With Sootaway
Without Sootaway                                    With Sootaway